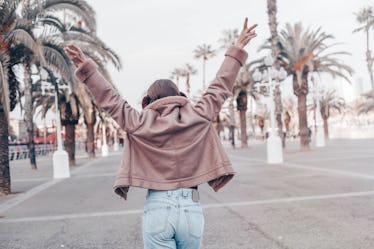 The Most Instagrammable Restaurants & Shops In LA Are Made For Serious #Content
Shutterstock
Los Angeles is an Instagram haven. The more I explore, I feel like I continue to find amazing nooks and crannies of the city filled with picturesque spots that make for incredible content creation. The city is just so big, I think it's close to impossible to explore it all in a lifetime, much less a quick visit. That's why I've rounded up some of the most Instagrammable restaurants and shops in LA so you can be sure to add them to your itinerary, whether you live here or are just visiting.
My one-year anniversary living in LA is quickly approaching (Sept. 21 is the date.), and over the past 10 months, I've made it a mission to see as many of the city's landmarks as I possibly could. Of course, I made my way to the most iconic spots, like the Paul Smith pink wall and the LACMA's Urban Light exhibit, but I've also found some Instagrammable spots that are relatively new or, in my opinion, underrated. Obviously, there are way more spots I have to visit than the ones on this list (my current bucket list is already quite long), but I think these six are most definitely worth a mention.
If you're headed to LA for a trip soon, or already live here and want to find new spots to check out, these are some of my favorite Instagrammable restaurants and stores.