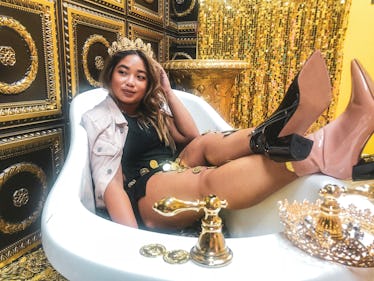 The 8 Best Instagram Spots In LA That Every Millennial Should Have On Their Feed
As someone who often curates entire travel itineraries based on the most Instagrammable places in that particular destination, I have scoped out the best Instagram spots in L.A. while living here. From the Museum of Selfies to the Griffith Observatory and everywhere in between, there are so many incredibly beautiful places to take pictures and get some content for the 'Gram.
L.A. is a huge city, and it can often be overwhelming to try and explore all of it in one trip — especially if you're only there for a few days. But I guarantee that you can squeeze in at least a few Instagrammable spots into your schedule, and you 100% should. After all, if you don't post any pics from its most recognizable landmarks, did you even really visit?
Whether you go on a hike in the hills, or get super glammed up for a mini photo shoot against the pink wall at the Paul Smith store on Melrose Avenue, you'll definitely have fun snapping and posting some pics from all around this spectacular city, regardless of which spots you decide to hit up. And who knows? You might just discover some more epic Instagram spots of your own.