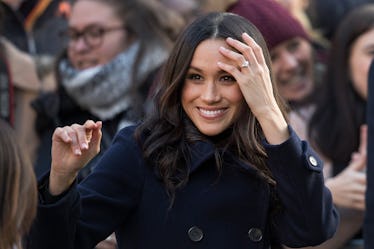 6 Meghan Markle Movies To Watch To Get To Know The Future Royal Better
Christopher Furlong/Getty Images Entertainment/Getty Images
Actress Meghan Markle's life is basically straight out of a Hollywood movie. Beautiful LA screen star meets a handsome and charming member of the British royal family and they live happily ever after. We would totally watch it, even if it were chock full of clichés and sappy one-liners. Of course, there are real Meghan Markle movies out there that actually exist for your viewing pleasure.
Before Markle was affianced to Prince Harry, the Suits star appeared in a handful of films and TV shows. She's been acting since the early '00s and has been on series like General Hospital, Fringe, and 90210. It was even recently reported that she was on the shortlist to be Daniel Craig's next Bond girl. From Hallmark rom-coms to a gritty crime thriller, the 36-year-old performer has quite the resume. But will she continue acting when she steps into life as a royal? Eh, it doesn't seem likely. "I don't see it as giving anything up. I just see it as a change. It's a new chapter," she told the BBC about her career plans.
No matter what the future holds, you know you're interested in her work. Get familiar with Meghan Markle's filmography before she officially becomes Her Royal Highness.
1. Horrible Bosses (2011)
2011's Horrible Bosses starred big comedy names like Jennifer Aniston and Jason Bateman, but Markle had a bit cameo as a delivery employee that Jason Sudeikis flirts with.
2. When Sparks Fly (2014)
We know what you're thinking. Christmas movies get all the love, but what about the Fourth of July? Independence Day-centric entertainment is really lacking and we demand more content around the summer holiday. Have no fear — Hallmark Channel is here! Markle starred in 2014's When Sparks Fly, which has all the makings of a classic from the cozy network. The gist: Big city career woman goes back to her humble small town and learns the meaning of home while reconnecting with her high school sweetheart. Isn't that what they're all about? That doesn't mean it's any less delightful.
3. Dater's Handbook (2016)
Cassandra is unlucky in love. She always chooses guys that are wrong for her. You don't say! But what happens when she follows a popular relationship advice book and dates several men to test its theories? One dude is totally stable and average and another makes her feel all the butterflies... but he isn't as predictable. Will she follow her head or her heart? It's probably pretty obvious to anyone who has ever seen a movie before. Whatever. Hallmark movies are highly addictive and we dare you to not find the joy in them.
4. Anti-Social (2015)
Meghan starred alongside Gregg Sulkin in this under-the-radar street art/ jewelry heist crime thriller.
5. Random Encounters (2013)
You probably missed this 2013 romantic comedy about a group of 20-somethings looking for love in Los Angeles, but it's not like it was up for an Oscar or anything.
6. Remember Me (2010)
Warning: This 2010 drama, which stars Robert Pattinson as a tormented rich kid who falls for a woman with a tragic past (Emilie de Ravin), isn't exactly a feel-good romance. We won't spoil the ending for you, but it offers up a twist that will simultaneously confuse and depress you. Meghan Markle cameos as a bartender, but we'll take it. Don't forget the tissues, people.
Markle is also uncredited in the Jonah Hill fave Get Him to the Greek. In addition to her acting gigs, the Cali-born talent was a briefcase model on Deal or No Deal. She starred on Suits for seven long seasons since 2011.
So, what are you waiting for? Your at-home Meghan Markle film festival awaits.