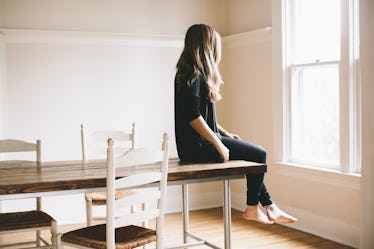 If You're Feeling Isolated, These 6 Little Things Will Help You Overcome The Loneliness
Sometimes you have those days when you feel like you're literally the only person on the planet — whether you live with three roommates, or you're surrounded by people at work all day, or even if you've just gotten 300 likes on your latest IG of you napping with your cat. Despite all of these things, sometimes you just feel alone, plain and simple. It can be hard to find things that make you feel less lonely, but it's not totally impossible. It's all about finding those little things in life that help you feel connected with others.
The sad thing is, loneliness is really common in our world right now, and it can have some really serious consequences. CBS News reports that, in a 2016 survey of more than 2,000 Americans, over 70 percent of respondents said they felt lonely at least once a week. What's more, a new study published in the journal Psychological Medicine showed that young adults who feel lonely are more likely to experience mental health issues, and generally have a much harder time coping with stress.
In this new study, Business Insider reports, researchers from King's College London gathered data from more than 2,000 pairs of millennial twins from Wales and England, who were asked about their personal experiences throughout different stages of their lives, the quality of their relationships, their feelings on the state of their physical and mental health, and how lonely they felt. According to the news outlet, 7 percent of participants said "they often felt lonely," and 23 to 31 percent reported feeling "left out or [that they] lacked companionship." What's more, feelings of loneliness in these participants were found to double their chances of experiencing a mental health issue.
Bottom line: Loneliness is clearly something that many of us are struggling with right now. It can be hard to shake these feelings, but trust me when I say it's not totally impossible. Here are a few ways to feel a little less alone.