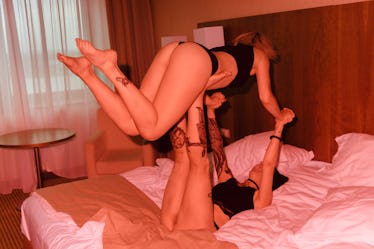 6 Sex Moves To Try Late After A Party & End Your Night With A Bang
The food and drinks are dwindling. Everyone is starting to funnel out. Despite the music, which is still playing weirdly loud, it's clear that the night is winding down — for some people, that is. Whether you hit it off with a sultry stranger or you're feeling the heat with your longtime boo, you're about to turn this house party into a party in the bedroom. A party of two, that is. If you've been out on the town and you're ready to head home, these late night sex moves to try after a party are the perfect way to end your evening with a bang — literally.
It's important to note that going out can sometimes mean getting your drink on, and while drinking can act as a social lubricant, there's nothing sexy about sending mixed messaged or potentially crossing boundaries. If you and your date both can't give active and verbal consent, it's best to take a beat and call it a night.
If you're feeling ready to mingle and your date is down, getting it on after a long night can be a great way to keep the party going. So, here are six sex moves to try after a party.