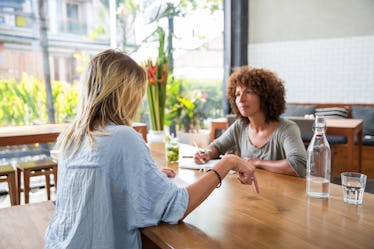 6 Job Interview Red Flags To Look Out For, According To Experts
Looking for a job can be a daunting process, to say the least. And for the most part, when you're looking for new employment or headed to an interview, you are thinking about what you can bring to the table. While you think it's all about what you say, the right outfit, and how your resume stacks up to all the other applicants, it is just as important, if not more so, for you to consider what they can do for you. You are interviewing the company as well, after all. So looking out for job interview red flags to alert you to a poor fit is definitely knowledge you should keep in your briefcase, so to speak, when you head in for a sit-down with some potential new employers.
Elite Daily got the word from some experts in the field about what to look out for when you are looking for a job, to make sure that the place you might be spending your daily 9 to 5 (and let's be real, sometimes even more than that) is worthy of your effort and your precious time.
Stay positive, y'all, the right fit is out there, and you definitely deserve a job you enjoy, surrounded by great people.