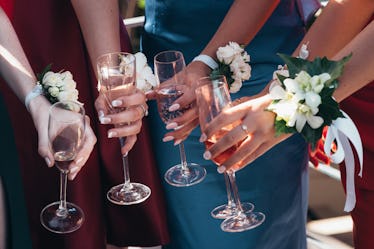 6 Horror Stories From Wedding Planners That Will Make You Shudder
Have you ever watched Bridezillas and thought, "there's no way that happens in real life?" If so, you probably haven't talked to a wedding planner recently — that show may be a tad (OK, super) sexist, but it barely scratches the surface. These tales can be entertaining from the outside, but from the inside, there's no shortage of horror stories from wedding planners. Jennifer Lopez makes the job look sexy in The Wedding Planner (although, let's be honest: J. Lo would make any job look sexy), but that doesn't mean wedding planning doesn't come with its fair share of disasters.
As a wedding guest, you typically see a beautiful, romantic celebration of love. The wine flows freely, and you dance the night away with your friends who have just declared their lifelong commitment to each other. As a wedding planner, things are a bit less rosy. Your job is to make that gorgeous ceremony happen, even if the wedding party is making it nearly impossible.
I spoke with several wedding planners about the craziest things that have occurred while planning weddings. They told me about bridezillas, groomzillas, DJzillas, ex-zillas — you name it. Read on to hear some horror stories from wedding planners that will make the movie Us seem positively optimistic by comparison.