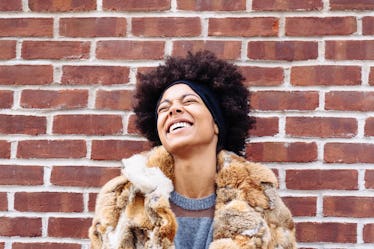 6 Health Benefits Of Laughter That Are Backed By Experts, So You Know They're No Joke
You're probably familiar with the saying "laughter is the best medicine." But what you might not realize is that laughter is quite literally good medicine. Pull up your favorite episode of The Office or add the newest episode of your favorite funny podcast to your listening queue, because the health benefits of laughter are no laughing matter, if you know what I mean. Whether your funny bone is tickled by dumb dad jokes or you're more of a sarcastic humor kind of person, chuckling is one sure way to boost your health — both physically and mentally.
Unlike actual medicine, though, there's no designated amount of laughter to lead to health benefits. While you should try to laugh a little bit each day, "the duration of the laugh is not as important as the reason behind it," says Lee Berk, DrPH, a humor and laughter researcher at Loma Linda University. "Mirthful laughter, as opposed to nervous or embarrassed laughter, promotes the good HDL cholesterol and has a cascade of beneficial physiological changes conducive for happiness," he tells Elite Daily in an email. "Laugh as often and as much as you need until you feel 'good.'"
Here are a few of the ways that a deep belly laugh can do wonders for your entire body.