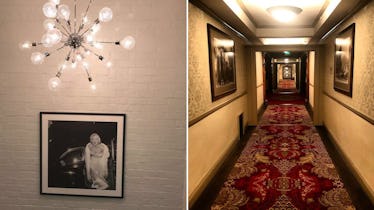 Stay At One Of These 6 Haunted Hotels For The Most Terrifying Halloween Experience
Twitter
Despite the fact that I have practically no tolerance for being scared by spooky stuff, I have ventured to a few haunted houses in the past — though I'm not sure I could ever stay in a haunted location overnight. If you already consider yourself to be a pro when it comes to being scared out of your mind, perhaps you should test your limits even more by seeking out some haunted hotels to stay in on Halloween. These six spots will make sure your All Hallows' Eve is packed with all kinds of creepy paranormal sightings — that is, if you can stand to stay there all night.
For a little extra comfort, I'd suggest bringing along a friend or your partner so that at least you'll have someone to cling to if a shadowy figure appears in the bathroom mirror, or you're woken up by something that sounds like fingernails scratching the wall.
Whatever you do, make sure you have plenty of materials ready to document the spooky experience — after all, there's nothing like returning from a haunted location with dozens of photos of creepy, glowing orbs, or audio recordings of demonic, inexplicable sounds.
Who knows what you'll discover at these six haunted hotels? All I can say for sure is, if you really get scared, at least you'll have the comfort of freshly laundered sheets to hide beneath until the sun rises.