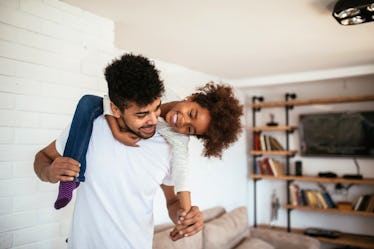 6 Sweet & Incredibly Thoughtful Christmas Gifts For The Dad Who Never Asks For Anything
For many of us girls out there, your dad is the first gentleman you will ever meet, and seriously one of the greatest guys on the planet. He never asks for anything, and is always dedicated to doing everything for you and the family. This is why there's no better time than the present to think of some thoughtful holiday gifts for dads who have everything. Any of these ideas will show Dad just how much he means to you, and that nothing he does goes unnoticed.
Of course, a gift is simply a gesture, and if you are able to, you should always let your papa know how much you appreciate him. But since it's the holiday season, and he's one of the most important men in your life, he is definitely at the top of your Christmas list. Aside from Father's Day, dads don't necessarily get the recognition they deserve for being such an asset to our lives. They're humble, encouraging, funny, and can probably fix just about anything we throw their way. And since they are constantly giving all of the time, because it's just in their nature, they hardly ever part their lips to express stuff that they want.
If you've caught on to your dad's endless amount of giving, and his quality of being incredibly quiet about what he may want for the holidays, send the feels through the roof with a few gift ideas. A thoughtful, sweet gesture will certainly put a smile on his face.