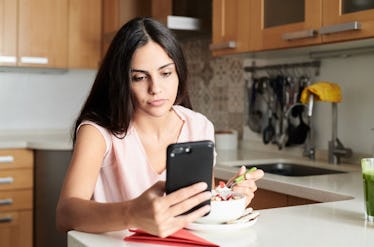 These 6 Foods Give You Energy In The Morning, So You're Set Up For Success
If you're not really a morning person, you know the struggle can be real parting with your bed and getting ready for the day ahead. But the scoop I'm about to drop is going to rock your world. You can be a total boss in the morning — you just have to stock your kitchen up with foods that give you energy in the morning so you can eat like one. That way, you can whip up a wholesome breakfast that fuels you for greatness — even if that just translates to you getting to work on time.
Up until now, maybe you never really thought about the foods you eat for breakfast on the reg, especially if you're someone who isn't exactly a morning person, or who simply can't stomach a heavy meal right when they wake up. When it comes to breakfast, everyone's routine is different. For instance, I know myself, and I wake up ravenous, while my husband can't even look at food for at least an hour after rolling out of bed — and that's perfectly fine.
I'm not saying you should sit down to a brunch-like spread at 7 a.m. every day in order to feel energized. But what I am suggesting is that you pay attention to your food choices, how your first meal affects how you feel for the entire day, and to make adjustments accordingly. Here are a few foolproof staples that make for incredibly energizing meals.