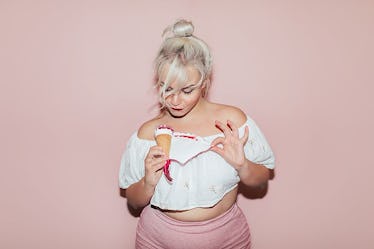 Indulge In These 6 Foods On Valentine's Day For A Serious Boost In Your Sex Drive
Imagine eating your way to better sex. Sounds a little like a hedonist's dream, does it not? Well, it just might be possible for you, my friends, so just in time for Valentine's Day, here comes a list of foods that boost your sex drive so you can keep up with cupid between the sheets on the day that honors all things love, romance, and sexy times. Pleasure on more than one level is always #goals, amirite?
Now, as you may know, an aphrodisiac is something that stimulates desire. While there's not exactly a glacier of research dollars being poured into the study of nutritional aphrodisiacs, there have been plenty of different types of foods, drinks, and herbs used to boost people's sex drives since basically the dawn of humanity. So, time is on our side with this one, if there are any skeptics out there.
Let me make it known, BTW, that I'm here for whatever kind of sex might float your boat, whether it's just you, or a whole dang party, so if you want to get it on this V-Day, stock up on these snacks to get the blood flowing where it needs to flow.
Happy eatin' and lovin' my friends! Because that's what it's all about at the end of the day — but especially on Valentine's Day.