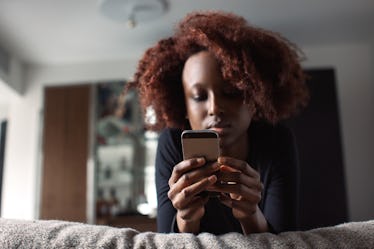 6 Excuses To Get Out Of Going Out When You're Feeling Lazy & The Struggle's Real
Oh no — you made plans with your friends, but laziness just invited itself over, and you really don't feel like getting up from your comfy couch. Don't worry, because we've all been there — and the struggle can be oh-so-real. You keep trying to part with your fluffy, warm blankets, but every time you move, you seem to sink a little bit deeper into the couch cushions. If you and your friends have made some solid plans to hang out far in advance, you really can't avoid them. You made a commitment, after all, and it would be really rude to ditch your girls. However, if it's been a long, stressful work week, you might not be feeling up for a long night spent bar hopping. You may already be thinking up some excuses to get out of going out as we speak.
First off, be absolutely sure to evaluate the situation and decide if it's really OK to back out of these plans. You for sure can't help it when you're way too exhausted from a busy work week, and the thought of going out to a loud bar is already too much to handle. Secondly, consider asking your girls if they'd rather have a chill night in and order some pizza. That may be your best bet.
If you decide you'd rather catch up on some sleep, but you're worried about letting your friends down, don't fret. Here are six valid things to text them to get out of a plan that will make them feel OK about it. You can be at home in your PJs, watching the latest flick, or snoozing within the hour.