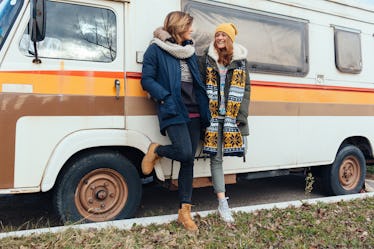 6 Easy Weekend Getaways That Are Perfect For Two Sisters & A Suitcase
Most getaways are supposed to be putting reality on hold for a bit and relaxing as much as possible. A lot of us also take advantage of the time off and end up going on an epic adventure. There are definitely two types of vacations — and sometimes you just need an easy escape. The best person to take on those trips is your sister. You are pros at vacationing together, so you should consider some low-key, easy weekend getaways for some much-needed family time.
She is your favorite partner for trips, after all, because you've been doing this whole vacation thing together since you were kids. You know what you both like to do, and can go at each other's pace. When you want to slow things down and just have a relaxing weekend, your sis totally understands. When you want to turn it up, she's all about it.
Even though it's a stress-free weekend, that doesn't mean you still can't do some amazing things. That's why you and your sister should really consider these six weekend trip ideas. Don't stress yourself out about packing, either. It's a quick trip out of town, so all you really need is a suitcase with the basics, and your main squeeze. You ladies deserve this, so get to planning ASAP.