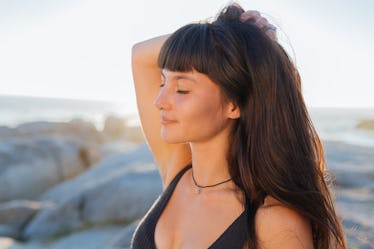 6 Refreshing Solo Dates To Go On If You're Single & Want To Treat Yourself
If you're not currently attached, it can be all too easy to overlook the importance of setting time aside to treat yourself, especially when you're so preoccupied with trying to find someone. But sometimes, we all need a reminder that you don't need to have a partner to hit the town and enjoy the finer things in life. There are plenty of solo dates to go on that offer you the perfect opportunity to reconnect with yourself and practice some much needed self-care.
Courtesy of the addictive "grass is greener" mentality, so many of us spend our single days lamenting over the fact that we don't have a bae — particularly if most of the people in your circle are in relationships. But thankfully, in recent years, there's been a noticeable shift when it comes to not conforming to the societal pressure that encourages us to rush and find a partner — any partner — and hold on to them at all costs.
Really, there are so many perks to being single, and there is no better time to take a quick break from the stress of your life to enjoy yourself. So here are six solo date ideas that your single self will surely thank you for.
1. A Spa Day
Solo spa days are one of the most underrated activities, IMO. Bubbling whirlpools, salt baths, wet and dry saunas — need I say more? If you're really in the mood to splurge, then book a massage for later in the evening and show up a couple hours earlier to leisurely enjoy the spa's facilities. Don't forget to pack a book or a couple of magazines to read over while you're lounging.
2. Overnight Getaway
Sometimes, a solo date night simply isn't enough, especially if you work in a high-stress environment. If you've got some extra cash, planning an overnight getaway is a great way to recharge. Maybe you've always wanted to check out a quaint little town a couple hours upstate or a small, but bustling city along the coast. Just take advantage of some much needed you time, and do it.
3. Happy Hour With A Good Book
Finding a bar during happy hour that's quiet enough to enjoy a good book without being disturbed might be a bit of a challenge. That's why hitting up a trendy hotel lounge is prime. Depending on where you go, a hotel lounge will probably be a bit less rowdy than your run-of-the-mill bar. Treat yourself to a craft cocktail, paired with a bougie snack, and get cozy with a novel.
4. Wine And Tapas
If my wallet could support it, I would be munching on charcuteries and guzzling vintage vino every day. If wine isn't your thing, then why not hit up a tapas place and polish off a pitcher of sangria — you deserve it! For the beer drinkers out there, a trip to a local brewery could also be a solid solo date night option.
5. Chelsea Market Food Tour
For all the New Yorkers out there, I'm sure you don't need me to tell you about Chelsea Market, the food lover's paradise. I've low-key panicked so many times from trying to decide what to eat while roaming through this wonderland. It finally got to the point where I would eat like a bird all day, just so I could justify eating my way through several of those delectable food stalls. Of course, if you don't live in the Big Apple, try hitting up any local food market near you to treat yourself to some delicious grub.
6. Goat Yoga
I still can't believe something as magical as goat yoga actually exists. If you find baby goats to be as utterly adorable as I do, then doing some sun salutations in a field of frolicking kids definitely won't disappoint.
See? Being single is absolutely not a valid reason to deprive yourself of trying new things and going out on the town. Spending quality time with you is an important part of becoming your best self. Even if it's something small, sometimes, a little TLC is just what the doctor ordered.
Check out the entire Gen Why series and other videos on Facebook and the Bustle app across Apple TV, Roku, and Amazon Fire TV.
Check out the "Best of Elite Daily" stream in the Bustle App for more stories just like this!