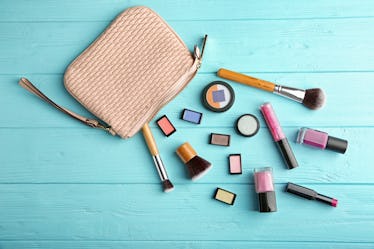 6 Cute Toiletry Bags That Are Made For A Wanderlust-Filled Life
Shutterstock
One of the only fun things about packing is having cute accessories to put your stuff in. Being equipped with the right cases, organizers, and toiletry bags can make prepping for vacay much easier. You not only want bags that are going to be practical for your trip and keep your things organized, but ones that are Insta-worthy, too. Though it may take some time to find just the right ones, this list of cute toiletry bags will give your next packing session a serious upgrade.
It's great to have a toiletry bag with a lot of organizers in it. This way, you can easily stash all of your makeup and beauty products in their own sections. A stylish bag can be difficult to come by — especially if you want to find a unique one that fits your personality and matches your luggage set as a whole. But if you shop from the choices on this list, you're sure to find a toiletry bag that suits your style and needs.
So the next time you're heading out on a trip, consider packing one of these toiletry bags with all of your essentials. It will make packing so much more fun.