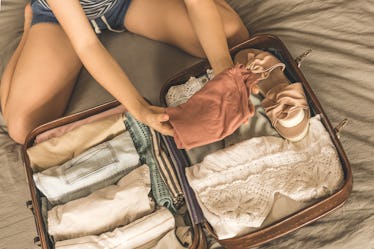 I Travel Half Of The Year & Never Jet-Set Without These 6 Organizers
Shutterstock
Even though I'm someone who travels for half of the year, I still find packing for trips pretty stressful. I don't like the idea of having to condense my entire life into a carry-on suitcase and a personal item. I often find myself procrastinating whenever I have to pack so I can push off the stress of stuffing my luggage just a little bit longer. But once I discovered the six best travel organizers, my way of packing was forever changed. These items make the whole process a whole lot easier.
Packing cubes, a jewelry organizer, and even a seat-back pocket organizer are all things I now consider to be absolute travel necessities. I'm definitely of the mindset that if you invest in solid travel accessories — including luggage, of course — you'll likely never have to spend money on them again. These six items are not only super practical and sturdy, but they're also gorgeous and will make for great travel flat lays for the 'Gram.
Whether you're like me and absolutely hate packing, or you're a total pro and just want to make your life a little bit easier, try these six organizers on your next trip. I promise they'll completely change your travel game for the better.