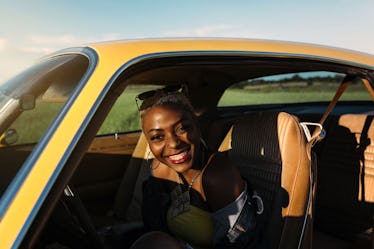 These Comfy Road Trip Outfits Are Stylish & Insta-Ready, Too
Embarking on a road trip is always an epic adventure you'll remember for the rest of your life. It can certainly be a wonderful way to sightsee and explore different parts of the United States, but it's no secret that spending hours upon hours inside a car can be super exhausting. Even though you're passing really beautiful sights, you might not be in the mood for posing for pictures when you're rocking your sweatshirt, PJ shorts, and a top-knot. But what if I told you that it's possible to find comfy road trip outfits that are not only super lounge-able, but also chic and picture-perfect, too?
Brands such as Joah Brown, Universal Standard, Époque Évolution, Lululemon, and Calvin Klein make clothes that are comfy enough to wear while traveling, and they'll still look fantastic when you hop out of the car to snap some pics. So, if you're headed on a road trip soon and want to find clothes that are comfy but still look seriously cool, check out this list of my personal recommendations. I've traveled in all of these pieces, so I can say with absolute certainty you'll be putting your money in the right place. Happy shopping and travels.