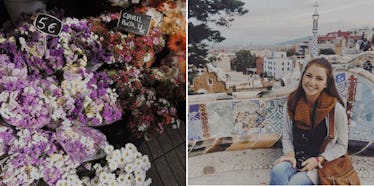 6 Coolest Spots In Barcelona Every Study Abroad Student Needs To Know About
Let's be honest: You've gotten into a routine on campus. On weekdays, you hit up your local coffee shop to grab your favorite brew before class. You're involved in extracurriculars, and spend late nights in the library studying with your roomies. But, that's all about to change, because you're studying abroad. That's right — in just a few weeks, you'll be jet-setting to Spain for one of the most enriching experiences ever. Here are some of the coolest spots in Barcelona that every study abroad student needs to know about, for a semester that's as sweet as the fresh fruit in the market.
Right now, you're gearing up for the semester and reading through guide books in your spare time to get an idea of what this incredible city is all about. Your best friends from college have told you about the string lights hanging over the squares and the warm waves at the beach. You've done a little bit of research and discovered that there's a museum full of art from Picasso, and a vibrantly-colored church called La Sagrada Familia, too.
Soon enough, you'll be hopping on the plane and flying across an ocean to experience this place for yourself. Be sure to check out these six spots while you're there, OK?