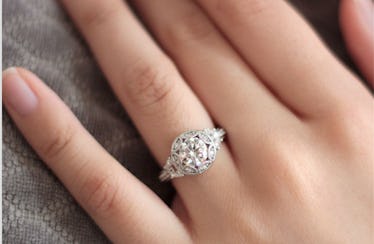 6 Christmas Engagement Rings Under $200 That'll Make You Feel Like A Snow Queen
Hear me out: Christmas is one of the most romantic times of the year — at least for engagements it is. So many people get engaged during this season of the year, and it makes sense. You're surrounded by loved ones, the cold weather is making you feel snuggly, and you're giving gifts, so... yeah, engagement ring. And if you haven't noticed, a lot of Christmas songs are either about making up or breaking up; it's a thing. But you're ahead of the game, because you know even Christmas engagement rings don't have to break the bank to be gorgeous.
So many girls dream of their perfect ring and, TBH, there's no shame in that at all. But little did we know we can get that perfect ring for a way more affordable price. Plus, if you lose it, you can be considerably less worried (just saying, at least for me, misplacing my ring will be inevitable). And there's nothing to worry about — going under budget on your ring does not mean it'll be any less beautiful.
In fact, these six Christmas engagement rings are so beautiful you might just have to hold back a tear or two. No one's judging; it's just the Christmas spirit getting to you.