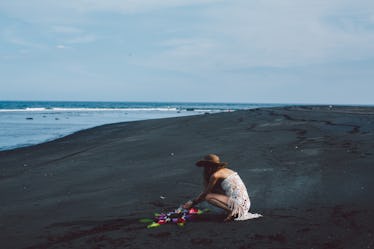 These Black Sand Beaches Are Mysteriously Beautiful & You Need To Visit Them
Once the warm weather rolls around, everyone's game to hit up the beach. Beaches are the perfect place to unwind and escape life's daily responsibilities. With so many beaches around the world, it may be difficult to decide where you should go. Before you plan your vacation, you might want to consider visiting a black sand beach. Sure, it might not be the norm, but it can be just as special as a white sand beach. In fact, it can be even more beautiful, because it's rare. These black sand beaches to visit during the summer will honestly take your breath away.
There's something so magical about a black sand beach. According to SandAtlas.org, black sand is most popularly formed by fragments of lava and volcanic minerals. The jet black sand tends to glisten in the sun and it's a completely different experience than your typical beach. I can't forget to mention that the striking color is perfect for posing on the 'Gram.
Sometimes you have to get off the beaten path for an extraordinary experience, and that's certainly the case when it comes to hunting down black sand beaches around the world. It may look a bit unusual at first sight, but it's only a matter of time before you being to appreciate this phenomenon.