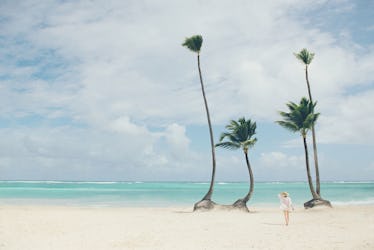 Here's The Stunning Island You Should Visit When You Want A Truly Unique Vacation
Winter is officially over, so that means it's time to start planning your summer getaway as soon as possible. An island vacation is the ultimate way to take advantage of the sunshine, warm temps, and your favorite sundresses that have been chilling in the back of your closet. There's nothing like lounging on the beach while listening to the waves crashing on the shore. Those island vibes can seem to make all of your struggles disappear as soon as you land. You'll return home feeling refreshed and ready to take on the world again. Before you plan your next island getaway, I've rounded up some unique islands to visit that might not be on your radar, and really should be.
What do you look for when you're planning the ultimate island getaway? Is it powdery white sand, turquoise-colored water, unforgettable sunsets, awesome nightlife, delicious seafood, adventurous water sports, peace and quite, or all of the above? Do you prefer to visit more laid-back islands or do you like to keep the excitement alive with an itinerary filled with various activities? Many islands around the world have so much to offer, and you have yet to travel to them. You'll have no problem securing a spot on the beach, and you can snorkel freely without bumping fins with another person. Scope out where the beauty really lies this summer by heading to any of these six slices of paradise.