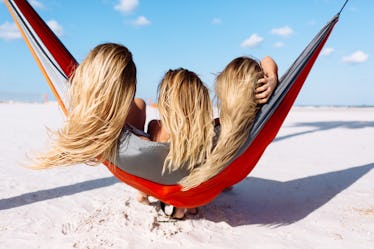 The Dreamiest White Sand Beaches Are Calling Your Shell Phone & You Must Go
I don't know about you, but a white sand beach is the first image that comes to mind when I hear the word "vacation." I seriously can't think of a better way to spend a chill summer day than relaxing on the sand with a tropical drink in hand. I start dreaming of beautiful beaches as soon as the weather begins to warm up. Can you really blame me, though? There's just something about soft, powdery sand that warms my mermaid heart and soul. Tropical vacations are perfect for a sweet summer escape, so I'm always planning my next getaway in my head. If you can relate, then you'll fall in love with these white sand beaches around the world.
If you're in a beachy state of mind, then you're probably on the hunt for your next island destination as we speak. We all know that the perfect island has white sand and turquoise blue water. In fact, the scenery is so breathtaking that the best islands don't even need a filter. They're beautiful without Photoshop, and it's hard to believe that these places even exist. If you find yourself questioning, "Is this real life?" a hundred times when you step foot onto the sandy shore, then you know you've arrived at the most perfect beach. These white sand beaches will take your breath away, so get ready to swoon.