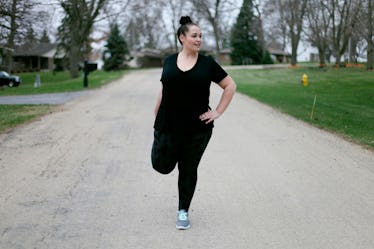 6 Benefits Of Wearing Yoga Pants Every Day, Besides The Fact That You're Comfy AF
I can say with confidence that being cozy is one of my priorities in life. It's rare for me to be wearing any articles of clothing — especially when I'm at home — that aren't soft enough to take a quick snooze in. But I truly believe that the benefits of wearing yoga pants every day actually extend well beyond the wonderful aspect of their comfortability.
Now, it may or may not surprise you to learn that, according to research, the clothing you choose to wear can have real psychological effects on you and your well-being. Researchers refer to this as "enclothed cognition," and basically, the bottom line is that dressing yourself in things that make you feel both comfortable and presentable, in a way that feels good to you, is really important for your mental health. And yes, wearing your yoga pants every day totally counts here, as long as it genuinely makes you feel your best from head to toe.
In fact, there are a lot of pretty cool benefits to wearing yoga pants on the reg that you probably haven't ever considered. I'm sure you don't need another reason to spend your next paycheck on a fresh new pair of Lululemons, but in case you do, here's why you're totally justified to live that yoga pants life all day, every day.