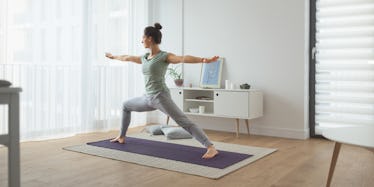 There's Actually A Really Good Reason Why You Should Work Out During Your Period
I don't know about you, but if someone asked me to hit up the gym during my period, I'd most likely laugh in their face and retreat into the warm sanctuary of my fuzziest blanket fort with a pint of Ben & Jerry's held close to my heart. And while there's nothing wrong with my menstrual self-care regimen (it's lit, let me tell you), I can't help but low-key wonder if moving my body a little might ease some of my more intolerable PMS symptoms. It turns out there are actually plenty of benefits of exercising during your period — if you can bring yourself to get up and do it, that is.
While every woman's period is totally different and unique to her, there's typically no harm whatsoever in moving your body — and dare I say, even sweating a little bit — during that time of the month. Of course, it's always in your best interest to listen to your own body and the cues it's giving you, and to consult with a doctor if your PMS symptoms are on the more extreme side. But if you've ever been concerned that working out might generally make your period feel worse, throw those worries out the window. The next time Aunt Flo comes to visit and you need something to get your mind off the cramps and the mood swings, try a few gentle exercises, and enjoy these six awesome benefits.