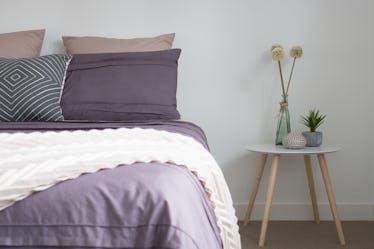 If You're Constantly Redecorating Your Room, You Need These Subscription Boxes
Whether you're ringing in the new year with a fresh start, clearing out the junk for a much-needed spring cleaning, or if you're just plain bored with your current setup, there always seems to be a reason to switch-up your bedroom style. Figuring out an entirely new design concept is not the easiest task in the world (no matter how much Fixer Upper you watch), and sometimes a stroll through the home decor aisle only serves to confuse you even more. That's where the wonderful world of subscription boxes comes into play, and these 6 bedroom decor subscription boxes will help you get the perfect room refresh.
Bedroom boredom is an all too common occurrence in my life. I often find myself perusing Pinterest style boards, or I watch a Property Brothers marathon and convince myself that I can build a brand-new vanity from scratch (with absolutely no construction experience at all). Before the power tools come out, though, I realize that there is an easier way to inject some life to my current style. Oftentimes, just one or two new pieces of decor can change the feel of the whole room.
The beauty of a subscription box is that you will always have something new coming your way, so your style won't even have the chance to get stale.
1. Vellabox
You'll love the sweet smell of room refresh success when you burn one of your Vellabox candles from your monthly subscription box. The Vellabox comes in three different price options. In the $10-dollar "Lucerna" box, you'll receive a 4-ounce hand-poured candle. For an additional $10, the "Ignis" box delivers an 8-ounce candle. If you want all the scents, you can get the "Vivere" box for $30, and you'll receive a 4-ounce and 8-ounce candle.
Each box also comes with a surprise gift (yes please!) along with Vellabox's expertly curated seasonal scents.
2. BRIKA
Variety is the name of the game with the BRIKA monthly subscription box. BRIKA is a shop based in Toronto, Canada, and they focus on highlighting talented artisans and their high-quality work. When you subscribe to the $25-a-month subscription box, you'll get a personally curated box of well-crafted goods that your Gift Concierge will create for you once you've filled out a questionnaire. Even though you might not know exactly what you want, you do know what you like — and BRIKA will use your own taste to surprise you in the best way possible.
Past boxes have included chic coasters, beautiful stationary (perfect for your desk), and even lipgloss (because you can never have enough pucker for your pout).
3. The Desert Box
What better way to revive your style than to bring some actual life to it? The Desert Box will do just that by delivering a succulent to your door every month. There are a variety of options available, but if you're just starting out, you can keep it simple with "The Uno". You'll pay $22.95 a month to receive either a new succulent or cactus monthly, and it will come complete with all of the desert life necessities: a repurposed wooden planter, soil, moss, and a pouch of white granite pebbles.
Don't worry if you're not a plant expert because you'll also receive a handy plant ID and care card that will tell you all you need to know about your new desert friend.
4. Pop Shop America Print Box
When it comes to selecting art for a room, it can be difficult to know where to begin. Enter the Pop Shop America Print Box. The monthly subscription box will cost you $24 a month, and in return, you'll receive a curated monthly subscription box complete with two high-quality art prints (think florals and whimsy) along with a "complimentary goodie" (yay for surprises!).
So, stop fretting over whether your art choices are "cool" enough, and let Pop Shop America do the art-picking for you.
5. Home Made Luxe
If your itch to rearrange you room is stemming from boredom, then the Home Made Luxe monthly subscription box is for you. It's the perfect combination of home decor and DIY. For $29, you can get a monthly box filled with all the materials you need to create what will likely be your favorite home decor projects.
From the photos on their website, past boxes have included trendy projects like a DIY marble clock and chic paper flower-adorned trinket boxes. It sounds like the perfect rainy-day project that will also add some style to your life.
6. Globe In
Broaden your horizons with Globe In, which focuses on empowering artisans in remote areas of the world. When you subscribe to the monthly Premium box for $33, you'll receive four or more premium products that are sourced from all around the globe. Once you subscribe, you'll choose a theme for your box. For example, the current theme of "Sophisticate" includes a handmade Sari paper tray from India as well as a "Brave Bracelet" from Uganda.
Beyond simply receiving the high-quality handmade goods that will undoubtedly brighten up your space, you'll also be supporting many hardworking artisans in developing countries. You don't have to go patting yourself on the back or anything, but it never hurts to do a little good.
So, now that you're wise to an easier method of updating your bedroom that doesn't involve having a panic attack in a Home Goods, all you have to do now is decide which subscription box strikes your fancy — and it's totally OK if you love them all.