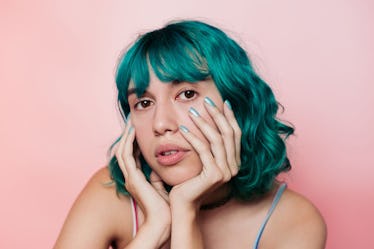 6 Apple Cider Vinegar Products That Aren't As Harsh As Slathering The Real Thing On Your Face
In the health and wellness world, apple cider vinegar falls under the same category as coconut oil; it's recognized as a kind of cure-all that works wonders on acne-prone complexions, dandruff-dusted hair, and it's even reportedly amazing for gut health. From what gurus and experts alike can tell, the only downside to ACV is that it's a pretty intense substance that definitely needs to be diluted with water, or mixed with other ingredients, especially if you're going to be applying it to your skin. The good news is, there are a handful of apple cider vinegar products that aren't as harsh as applying the real thing directly onto your face, so you can reap all of its benefits without the high risking inflammation or irritation of any kind.
If by some chance your Insta feed isn't overflowing with influencers preaching about ACV shots, homemade ACV salad dressings, teeth whiteners, and the like, let's get you up to date on this thriving trend, shall we? ACV is essentially fermented apple juice that both beauty and wellness gurus adore. I know holistic remedies low-key sound a tad new-agey, but that's why ACV is so beloved: It's all natural, organic, and cost-effective.
Still, dabbing a few drops of ACV directly onto your skin isn't exactly the most glamorous idea, so as far as ACV beauty goes, I definitely suggest sticking to products with ACV on the ingredients list. If you're curious, here are a few to experiment with.