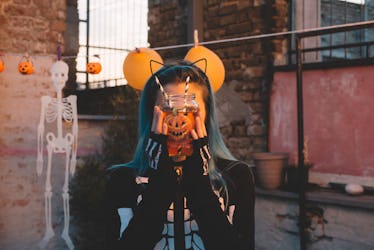 50 Funny Halloween Puns For Instagram That'll Make You Laugh Until You Coffin
Halloween is right around the corner, which means it's time for you to start planning your costume, if you haven't already. You might go all out in something super scary, or you may just put on a pair of animal ears and go as a mouse. (Duh!) Regardless of what you wear, you're definitely going to be taking a ton of pictures with your witches, and nothing goes better with your spooky pics than funny Halloween puns for Instagram.
Halloween is the one night a year when you can go ham in the costume department and no one will judge you for it. Whether you come up with something really simple (I've admittedly dressed up as a cat for a few years), or think up a full-fledged punny costume, your ensemble will be worth snapping some selfies in.
Celebrating Halloween is our way of knowing that we are saying goodbye to fall and are (begrudgingly) welcoming winter. So put on your outfit, grab your best ghoulfriends, and head out for one of the most memorable nights of the year.
1. "Creep it real." — Unknown
2. "If you've got it, haunt it." — Rose Pressey
3. "I'm only here for the boos." — Unknown
4. "Trick or treat yo' self." — Unknown
5. "Witch better have my candy." — Unknown
6. "What do you get when you drop a pumpkin? Squash." — Unknown
7. "Hey boo-tiful!" — Unknown
8. "Bow down, witches." — Unknown
9. "I know every trick or treat in the book." — Unknown
10. "Demons are a ghoul's best friend." — Unknown
11. "I would make a skeleton joke, but you wouldn't find it very humerus." — Unknown
12. "My resting witch face." — Unknown
13. "Halloween puns make me laugh until I coffin." — Unknown
14. "Getting kissed by a vampire is a pain in the neck." — Unknown
15. "You can't teach an old dog new tricks or treats." — Unknown
16. #SquadGhouls — Unknown
17. "A skeleton's favorite instrument is the trom-bone." — Unknown
18. "Basic witch." — Unknown
19. "Always look on the fright side of life." — Unknown
20. "Bone appetit!" — Unknown
21. "Straight outta coffin." — Unknown
22. "Eye want candy." — Unknown
23. "I go to bars for the boos." — Unknown
24. "Eat, drink, and be scary." — Unknown
25. "I'm Mr. Frightside." — Unknown
26. "No body won the skeleton race." — Unknown
27. "Your costume is so realistic, it's uncandy." — Unknown
28. "Gimme all the boos." — Unknown
29. "Halloween is a spooktacular holiday." — Unknown
30. "Cheers, witches." — Unknown
31. "Don't blame it on the gourd times, blame it on the boo-gie." — Unknown
32. "Your vampire costume is fangtastic." — Unknown
33. "Me and my ghoulfriends want your candy." — Unknown
34. "Don't cry — you don't want to ruin your ma-scare-a." — Unknown
35. "Halloween candy is yummy and all, but don't forget to save room for 'I scream.'" — Unknown
36. "Life is gourd." — Unknown
37. "Wicked awesome." — Unknown
38. "Oh my gourd, I love Halloween." — Unknown
39. "Happy haunting, ghoulfriend." — Unknown
40. "Putting the 'boo' in booty." — Unknown
41. "Your tricks will definitely come in candy." — Unknown
42. "Let's have some skele-fun." — Unknown
43. "No matter what costumes they wear, when the Halloween candy comes out, everyone is a-goblin!" — Unknown
44. "We're having a gourd time tonight." — Unknown
45. "You are unBOOlievable." — Unknown
46. "Hey boo!" — Unknown
47. "Batty about you." — Unknown
48. "Let's get this party startled." — Unknown
49. "You can't skele-run from my skele-puns." — Unknown
50. "Boo Felicia." — Unknown