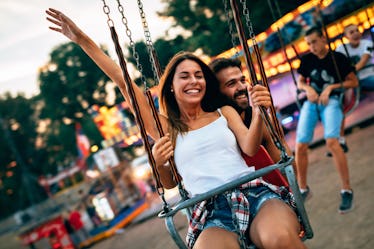 5 Zodiac Signs Most Likely To Marry Their On-Again, Off-Again Love
Shutterstock
Ah, the on-again, off-again relationship. It's exhilarating, but also completely exhausting at times. If you've experienced this, you know what it's like to have a person in your life you keep coming back to, even after breaking things off multiple times. There's something about them you're just drawn to, and you feel like you might always have a romantic connection. For zodiac signs who will marry on-again, off-again partners, their indecision may actually lead to a commitment in the long run.
While it's exciting to experience the ups and downs of life with someone, it can also be majorly stressful. On-again, off-again relationships sometimes happen when people have mismatched expectations. "Typically, this pattern happens when one or both partners are not aligned in what they want in the relationship," sexuality and intimacy coach Irene Fehr told Elite Daily. She explained that if these same issues that caused the first breakup remain unaddressed, it will be difficult to build trust again.
But if you communicate honestly with each other, and commit to making necessary changes in your relationship, it's possible to salvage a struggling connection. "It's helpful to work with a therapist or relationship coach who can give you an outside perspective on what's happening — which is often hard to see when enmeshed in these cycles," Fehr suggested. For some people, their on-again-off-again relationship manages to move past its rocky stages and develop into something super meaningful.
If you're one of these zodiac signs, this could totally happen in your love life.