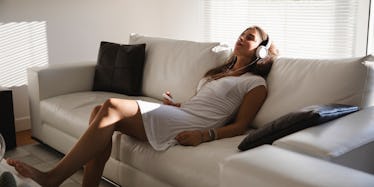 You Can Do This Yoga Flow Right On Your Couch & Being A Sloth Has Never Felt So Good
If being lazy is your favorite hobby, and you're low-key in a committed relationship with your couch, it can be hard to motivate yourself to get things done and include at least some form of productivity in your life. Alas, there are, sadly, things that must get done on a day-to-day basis — but that doesn't mean you can't accomplish them while still doing the absolute bare minimum. For instance, there are a few yoga poses you can do on the couch so that you can sloth it out, catch up on your favorite Netflix shows, and get some super casual movement into your day all at once.
While it's totally OK to embrace your inner lazy girl every once in a while, and avoid all of life's responsibilities while you lounge the day away, I'm willing to bet there's a tiny part of you that still wants to channel some ~zen~ vibes into your day, and honestly, there's no better way to do that than by adding a couple of low-key yoga poses into your relaxation station.
Fortunately, yoga can be done just about anywhere, at any time, and these five poses will make sure your posture is in check, and relaxation is your priority. Enjoy, yogis!