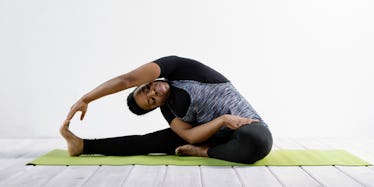 This Low-Key Yoga Flow Will Help You Get Out Of Your Lazy Slump When Nothing Else Will
Listen to me when I say this: Laziness is a lifestyle, people. TBH, procrastination and doing the bare minimum is truly a form of freaking art — do not even think of fighting me on this. Sadly, though, there's sh*t to be done in life, and you can't just get by living out your lazy girl lifestyle 24/7, which is why rolling out your mat and incorporating some yoga poses for laziness into your day will provide you with the perfect balance of super laid-back yoga and a burst of productivity to get you out of your "I'm not moving ever again" slump.
Usually, when I'm feeling lazy AF, I embrace it, roll up in the coziest blanket burrito possible, and sloth. It. Out. But some days, productivity and focus are, indeed, required (ugh, life), and I have to find something that will get the ball rolling and snap me out of hibernation mode. So, yoga comes to the rescue yet again, my friends.
If you, too, are in that sloth-like slump, and you absolutely need to sprinkle a little productivity into your day, but have no idea where to get started, try meandering your way over to your yoga mat and adding some of these low-key poses to your flow. Honestly, you'll probably feel pretty productive already, just for performing the sheer act of setting up your mat for practice. Ah, the joys of being lazy.