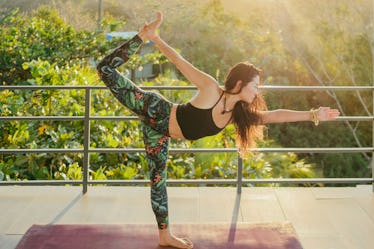 When You're Stuck In A Creative Rut, Moving Through These 5 Yoga Poses Will Inspire You
Everyone knows the feeling of being stuck in a rut. Sometimes, when all you want is to be inspired, artistic, and creative, your brain will have none of it, and you begin to feel stuck in all things logical, monotonous, and downright drab. It's times like these when rolling out your mat and flowing through some yoga poses for inspiration is one of the best things you can do for yourself to get those creative juices flowing.
So how do things like mindfulness, yoga, breathing techniques, and meditation actually help with flexing your creative muscles in the first place? Well, according to Psychology Today, people who have a consistent yoga and meditation practice are better able to slow down alpha and theta brain waves, which is a really powerful thing when it comes to honing your creativity. Basically, this means that the areas of your brain responsible for logical thinking and decision-making will quiet down enough to make room for new ways of thinking, so your creativity can truly blossom.
And sometimes, all you really need to do to get out of a rut is to quiet that logical, "know-it-all" part of your brain for a little while so you can start to see things from a fresh perspective. Try moving through these five yoga poses the next time you feel like you've hit a wall with your creativity, and by the time you're done, you might just be shocked by how different your mindset is.