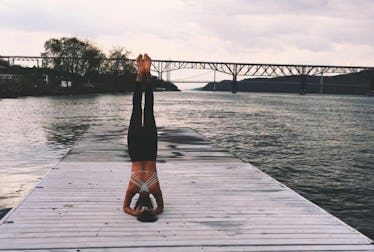 Yoga Inversions Are Hard AF, But These 5 Beginner Poses Will Help You Flip Upside Down
Georgina Berbari
When you begin to experience the physical and mental growth that a consistent yoga practice brings, you might start craving those sacred moments between you and your mat each and every day. And if you've been practicing for a little while now, maybe you're itching to dabble in the waters of more advanced asanas, such as headstands, handstands, and, well, all things upside down! It's important to take it slow, and respect your body's signals when you start advancing your practice, which is why including yoga inversions for beginners into your flows will help develop the strength and confidence required to get upside down.
As a yoga teacher, I can tell you that inverting requires tons of core activation, shoulder strength, mental focus, deep breathing, and practice. It's easy to get frustrated when your teacher instructs a headstand in class, and you can't just do it right there on the spot, but remember, this stuff requires a bit of patience and a lot of practice, so don't rush the process, friend.
Plus, you might even be getting in your own head and psyching yourself out with the fear of the unknown — i.e. going upside down. But, if you practice these five beginner inversions on the reg, you'll be on your way to nailing your inversions in no time.