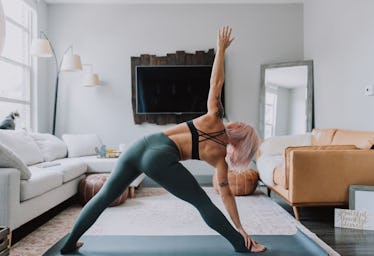 This Yoga Routine Is Exactly What You Need To Conquer Holiday Stress Like A Boss
As wonderful as the holidays are, they can also be a pretty stressful time of year, to say the least. Between gift shopping, gift giving, and seeing family you may or may not be super fond of, the most wonderful time of the year can also sometimes be the busiest. Having said that, it's important to give yourself space to breathe and relax, and a regular yoga practice could be exactly what you need during those especially chaotic moments. Ahead of the festivities, consider learning some yoga poses for holiday stress to help you tune into your body and its needs — after all, you can't pour from an empty glass, right?
The thing about yoga is that it works. Yoga means union, says Beth Shaw, CEO and founder of YogaFit, and rolling out your mat during the holidays can help bring together the body and the mind to establish a sense of comfort and serenity. "Practicing yoga gives you peace," Shaw explains. "And we all need more peace now." Amen, girl.
"If you are feeling tense, worried, down, restless, and having trouble concentrating, then you will benefit from starting and keeping a yoga practice," the teacher tells Elite Daily over email. "Yoga poses (or asanas, in Sanskrit) help release tension and stress from the body by regulating hormones and increasing endorphins."
Here are five of Shaw's go-to yoga poses to combat holiday chaos and ground you when you need it most.