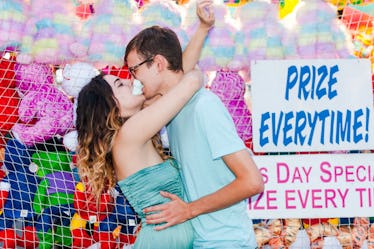 Here's Why These 5 Classic First Date Ideas Are Actually Completely Overrated
The Bachelorette is back to "do the damn thing," and I'm reminded that it's a show full of terrible date ideas. I don't want to go fishing in a pool, I don't want to go on group dates with many suitors, and I don't want to get dunked on. I also definitely don't want to be filmed on a date, which is why I stick to regular, old fashioned drinks dates. Drink dates are my favorite because they're simple. Hot take: The worst first date ideas are the most creative ones.
I am a bit of a grouch, but I actually stand by this opinion. Getting overly creative for a first date is a sure way to make someone feel uncomfortable, especially in the age of dating apps and casual flings. Overzealously planning a first date is also a really easy way to end up disappointed if this person you've swiped on turns out to be less of a soulmate and more of a sucker.
Going out for drinks or grabbing coffee are perfect first dates because they are quick and easy. The round of beverages sets a finite amount of time for you and a stranger to see if you connect or not, plus it's hard to get spinach in your teeth if you're just sipping a bev. (Unless you're drinking a bespoke cocktail with lavender in it or something.) A drinks date also presents a relatively low chance of injury — unlike horseback riding or hot yoga. (I have heard of a friend being invited to hot yoga on a date, and I'll never understand.)