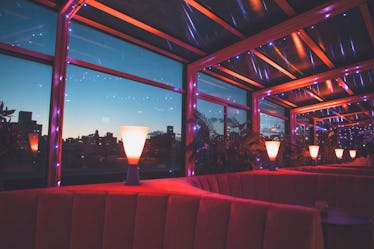 A Bartender Explains What Your Date's Choice Of Drink Order Reveals About Them
SIXTY LES HOTEL
A large portion of my time on dating apps is spent jumping to conclusions. If a dude professes to "love the outdoors," I assume he's basic. If he's snuggling a fluffy retriever in his pictures, I assume he should be my boyfriend. There's just not much substantive intel to go on when meeting someone on the internet. (Because what does a match's LinkedIn profile really tell you?) But when you meet up IRL, you get to judge your date without seeming like a conspiracy theorist. That's why I want to break down what your date's drink order means — because it's usually the very first decision you see them make.
My personal first date drink order is determined entirely by what I think my date will think of it. Pathetic, but real. Do I get a Tito's and soda, my go-to bev? No, too basic. A martini? No, too aggressive for a Tuesday. Even if I treat myself to my favorite adult beverage, a margarita, at a bar that's not exactly known for margaritas, I'll only order one with three to seven disclaimers about "how weird it is, but I just love margs!" (Eye-roll city.)
I'm the cohost of a podcast called "51 First Dates," and I've been on 31 first dates so far throughout the experiment. I'm getting more comfortable with ordering whatever I want for because duh, we only live once, and why not order exactly what you really want? However, I'm curious to know what bartenders — who probably see 31 first dates per night — think of a person's first date drink order. I spoke to Jack Mulqueen of New York's extremely hip rooftop bar Make Believe at Hotel Sixty (which hosts so many dates, it even has a Bumble-themed cocktail on the menu) to get his take on what a first date drink order says about a person. Let the hot takes commence.