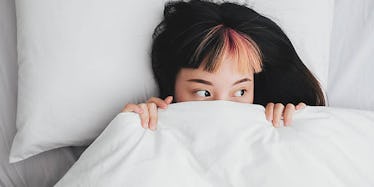 You Can Do These 5 Workouts With A Pillow, So There's No Reason To Ever Leave Your Bed
If I had the option of never leaving my bed for the rest of eternity, I gladly would consider my pillow-clad sanctuary my permanent place of residence. As much as I love working out, bed is truly bae, you guys, and I low-key feel guilty whenever I have to leave my beautiful mattress, a long-time, cushiony companion that has done nothing but love and support me unconditionally. If you, too, are as freakishly obsessed with your bed as I am, including workouts you can do with a pillow into your fitness routine is an absolute must.
Look, as far as I'm concerned, if you find yourself feeling lazy one day, and there's no real reason why you have to separate yourself from your mattress, then why bother getting out of bed? With pillow workouts, it's all about getting in your exercise for the day without ever having to leave your room, which sounds like the most glorious thing in the world to me. If nothing else, it'll make you feel at least a little more productive than if you'd just snoozed all day with The Office playing softly in the background, right?
So the next time you're sloth-ing it up around the house, try these five workouts with your pillows to challenge your body in the laziest way possible. Beating the system has never felt so good, y'all.