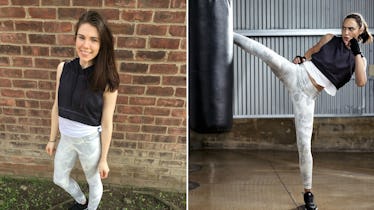 I Tried Working Out Like Gal Gadot & FYI, Being Wonder Woman Is Just As Hard As It Looks
Julia Guerra/Reebok
You've been there before: You're scrolling through your Instagram feed when you see your favorite celeb post about their favorite new product — a face serum, vitamins that will make your skin brighter, or a specialty food service. You can't help but want to be like the stars, but are the products worth it? In Elite Daily's new series, I Tried, we put it all to the test. We're trying those products as well as celebrities' health and wellness tips, recipes, and life hacks. We'll do the leg work and tell you what living like your fave star is really like.
You know that old saying, "never judge a book by its cover"? Well, the concept can be applied to pretty much anything, including workout routines. Truth be told, I wouldn't say I'm an exercise snob, exactly, but if a circuit doesn't look all that challenging, I'm likely to pass, which is almost what went down when Reebok sent Elite Daily a workout designed by Wonder Woman herself, and the individual moves didn't look all that difficult to me, at least at first. Still, I love a celeb-inspired routine as much as the next #fitgirl, so I tried working out like Gal Gadot for a week, and let me tell you, being Wonder Woman is just as hard as (and 10 times sweatier than) it looks.
Lately, I've been going through a kind of transitional period in my fitness journey, and I think it's because, after lifting weights for the past four years, this sort of training started to feel stale. I still love using dumbbells, and I feel like a boss in the gym when I squat heavy, but my body's gotten used to the moves I've done over and over again, so when I was presented with a routine that was not only pre-made, but approved by someone as badass as Gadot, I figured there was no time like the present to give bodyweight strength training a fair shot. Except, to be honest, I wasn't being fair at all at first.
At first glance, Gal Gadot's core strength workout looked easy enough to me, but I was clearly overestimating my abilities.
Coming from a weightlifter's perspective, I always assumed bodyweight training would be a lot easier than deadlifting pounds on pounds of extra weight over my shoulders, or performing backward lunges with 15-pound dumbbells at my sides. I never would have imagined just how hard my ass was about to be kicked looking over the six-move circuit Gadot's trainer compiled for the ultimate core circuit. Boy, was I foolish.
When the workout was initially sent to Elite Daily, I had my doubts about just how effective the routine would actually be. Side squats and lunges were nothing new to my training, and minute-long intervals and 10-rep cycles hardly sounded strenuous. However, Gadot's trainer recommends going through the entire circuit anywhere from three to five times in one workout session, so I figured if three times over wasn't challenging enough for my intermediate skill-set, five cycles would probably be my sweet spot. LOL at my cockiness, right?
The first time I gave Gadot's circuit a spin, I was in shock when the one-minute timer triumphantly sounded, and I collapsed on the ground after my last skate jump. Not only was my body perspiring in places I didn't even know existed, I was literally shaking.
The entire workout took about 25 minutes max when I factor in rest times, so I thought it would be a great addition to a cardio routine or upper-body weight-training sesh in the future. Going off the visual of the workout moves, there wasn't a specific time limit on breaks in between exercises, so I kind of took it as a high-intensity interval training (HIIT) flow, going through the motions back-to-back with little rest periods in between. I would definitely have to take a rest in between the first and second days of my experiment, but I decided to up the stakes and perform the circuit not three, but four times in a row the next time around.
To say I nearly died on my living room floor wouldn't be too much of a stretch, TBH. If you thought I was sweaty and gross after three rounds of the actress' routine, you could throw a bucket of water on my Instagram photo above, and that still wouldn't exemplify the amount of sweat coming from my temples, armpits, and chest combined. Halfway through my last minute of bear crawls, I was practically begging for mercy. Still, I committed to this challenge, and I had to grin and bear it. Five rounds would happen on the fifth day of my experiment.
To channel my own inner Wonder Woman, and shamelessly twin with Gadot, I threw on the exact outfit she wore while going through the circuit and pushed myself through five, sweat-filled rounds.
I'm not ashamed to admit that I had to mentally prepare myself to go through Gal Gadot's core-strengthening circuit five times in a row. Don't get me wrong, because I was absolutely loving how my body was feeling, and the amount of sweat dripping from every part of my post-workout body, while low-key nasty, was giving me life. But if four times through worked me to the bone, I was betting on passing out this time after my final round of skate jumps.
To feel like the IRL Wonder Woman that is Gal Gadot, I figured one of the best ways to channel her superhuman strength would be to dress the part. So come day five of the experiment, I slipped on the same pair of Reebok Chalk Lux Bold Tight leggings (which, FYI, go on like butter and feel like a second skin), as well as the super cute Glory Hoodie, took a few glamour shots, and got to work.
When that one-minute timer went off for the last time, I collapsed on the floor in the same way I had on my first day of the challenge — but, as corny as it sounds, I did so feeling totally different than when I initially started implementing these workouts into my routine. Looking back on day one of my experiment, I actually laughed at how naive I'd been, and the fact that I almost dismissed this entire experience altogether because I thought I was better than bodyweight training, or worse, better than freaking Wonder Woman.
In a matter of just one week, I was feeling a lot stronger than I had in months, not to mention super motivated to experiment with other new workouts that don't require extra free weights. Of course, I'm not saying goodbye to dumbbells forever. What can I say, though, is I love lifting things up, and putting things down. But I am going to give it a rest for a while to find out what bodyweight training has to offer me. It just goes to show you really can't judge a workout by the exercises it entails, and the skill-set you think you have. It just might prove you wrong, and open your eyes to why different kinds of training might be right for you.