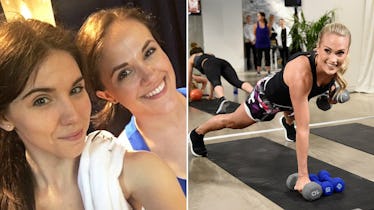 I Worked Out With Carrie Underwood For A Day & I'm Feeling Like A Total Champion Now
Julia Guerra/Getty Images/Kevin Mazur/Contributor
Ask anyone who knows me, and they'll tell you: I'm not exactly up on pop culture these days. There just aren't many celebrities I care to keep tabs on — that is, except Carrie Underwood. From the days when I'd sit cross-legged on the couch watching her perform on American Idol, to my first heartbreak when "Undo It" became my singleton anthem, Carrie and I go way back. So naturally, given the opportunity to exercise and share a meal with the "Cry Pretty" performer, I was both floored and nervous AF. But even though I worked out with Carrie Underwood feeling almost hyper aware of the fact that I was nowhere near the shape I was in just a year ago, I can honestly say I've never felt better after a sweat sesh in my life.
The event was held at Revolve in New York City, a super chic spot neighboring Central Park, and was hosted by Carrie and her team to celebrate the launch of her activewear brand, CALIA's spring/summer launches, as well as its Mother's Day campaign, #StayThePathTogether, which encourages moms and their families to bond through their workouts. In an exclusive interview with Elite Daily, Carrie says the campaign was created with the top gift moms want for Mother's Day in mind: quality time spent with their families.
"This year especially," Carrie tells Elite Daily, "I'm hoping to have a fun day with the family — whether it's playing in the park or going for a walk. I always try and stay active with [my son] Isaiah — it keeps me strong and has helped me become a better mother."
All attendees were invited to the event with a plus-one to celebrate active mamas. I brought my fellow #fitgirl and sister-in-law along for the day (who's a mom, BTW), and little did we know just how impactful the experience would be on our own wellness journeys.
For Carrie, she says getting active with her mom and son is about so much more than having a reliable workout buddy; it's about strengthening family bonds.
The guest list for the event was pretty small, and we were divided into three groups. Fate was on my side that day, as my sister-in-law and I were placed in Carrie's group, and for every move assigned to our circuit, I was working out right next to my idol. I'm sure you can imagine how much sweat was dripping from my body, and not just from the burpee drills and cardio sprints.
Most of the workouts were done in pairs, and because the event was being filmed by the Today Show, Carrie was one-on-one with Hoda Kotb while her mother, Carole, teamed up with one of Carrie's aunts. But don't think for a second Carrie forgot all about mom once the cameras started rolling; she'd occasionally walk away from the group and film crew to make sure Mama C was still going strong. She even made sure the two of them could be right next to one another on the treadmill for a light jog — one of the singer's favorite ways, she tells Elite Daily, to get active with her mom.
"I think it's especially important for moms and daughters to be active together because they can be each other's support systems and act as role models for one another," Carrie tells Elite Daily. "And being active doesn't mean you need to go to a gym. My mom and I enjoy going on walks together. It's about whatever works for the two of you."
The entire day was a testament to Carrie's physical and mental strength, as post-workout, the performer gave her first TV interview following her facial surgery.
In November 2017, the "Before He Cheats" singer fell off the steps of her home, Billboard reports, breaking her wrist and suffering a facial injury that required 40 to 50 stitches. Carrie was clearly nervous about her transformation, as People recalls the singer explaining she was "not quite looking the same." When she stepped out onstage for her first performance post-injury at the 2018 Academy of Country Music Awards, however, the singer still looked as gorgeous as ever. But, working in an industry that's so fixated on aesthetics, it's not surprising Carrie felt a little hesitant about being in the spotlight again.
I know myself, and I'm nowhere near famous (my friends' pets have more Instagram followers than me, OK?), but the pressure to look a certain way has always been a constant in my life. So when I had the opportunity, I had to ask Carrie how she stays grounded during these moments. Though it can be tough, she says, focusing on staying fit and living a healthy, active lifestyle, helps her feel her best.
"Working out is my therapy — it makes me feel strong and confident — which ultimately makes me a better mom, wife, friend, daughter, performer, and businesswoman," she tells Elite Daily, noting she comes from a long line of strong, confident women who, through their example, remind her to "stay grounded and focus on the things that really matter, like my family, friends, and health."
Carrie's passion for achieving and sustaining personal wellness inspired me to view my own approach toward fitness in an entirely new way.
Ever since I came back from my honeymoon in April 2017, I've been struggling to find what TaraLynn McNitt, of the lifestyle blog SimplyTaraLynn, refers to as my "fitness happy." I'd really challenged my body in the months leading up to my wedding, and I think once the day came and went, and I got the dream pictures in my dream dress with my dream guy, I was spent in terms of exercise. I didn't feel like working out, so I didn't, and when I did, it wasn't anything extreme. There's nothing wrong with not loving exercise, but there is something wrong with feeling like you have to work out super intensely all the time in order to feel your best, which was exactly the mindset I'd created for myself.
Between running alongside Carrie on the treadmill (she's super fast, in case you were wondering), doing medicine ball circuits together, and listening to her talk about wellness in general, and what it means to truly be mentally and physically strong, I was completely blown away by her perspective on things. It's easy for you and me to look at glossy magazine covers and Instagram posts and assume celebrities have it all. But the truth is, no one has it all.
Everyone is on their own unique journey, and everyone is aspiring to be the best version of themselves, famous or not. Spending a day working out with Carrie Underwood made me realize fitness isn't just about your body; it's about your mind, too, and the more we can all encourage one another to stay active, to stay grounded, the better we're all going to feel in the end. Thank you, Carrie, not just for the wonderful day, but also for teaching me such a valuable lesson about both myself and my well-being.