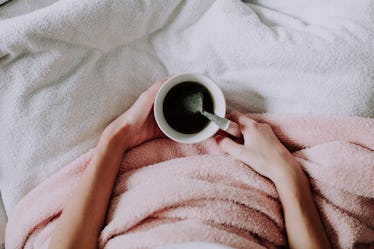 My Body Dysmorphia Gets Worse During My Period, But Here's How I Manage To Cope
No matter how hard I've tried over the years, I cannot seem to sum up my experience with body dysmorphia in words more perfect than these from Dawson's Creek: "Letting go isn't a one time thing; it's something you do every day, over and over again." The mental health disorder has been an ongoing struggle for most of my life. It started in my preteens, following me like a cold shadow ever since, and even though I've made tremendous progress accepting the curves and quirks that make me who I am, my body dysmorphia gets worse during my period. I lucked out, in a way, seeing as how my body doesn't plague me with physically crippling PMS symptoms too often, but mentally? My menstrual cycle takes a major toll on me in that respect.
In an exclusive interview with Elite Daily, NYC-based psychotherapist, Dove partner, and life coach, Christine Gutierrez, explains that body image dysmorphia is "when an individual is preoccupied with small or non-existent 'flaws' in their appearance." For me, this has always been my weight. In the morning, for example, I can look in the mirror and feel good about what I see, but sometimes, by early afternoon, I can barely even glance at the same woman reflecting back at me.
On my worst days, I'll run from bedroom to bathroom, thoroughly examining my outfit choices in a fit of self-hatred, believing nothing I own looks right. Of course, it's all in my head, which makes it even more upsetting and difficult for loved ones, like my husband and parents, to understand because, as doctor of psychology and licensed clinical social worker, Dr. Danielle Forshee, tells Elite Daily, "these flaws are not observable by other individuals."
According to the Anxiety and Depression Association of America, body dysmorphia, or body dysmorphic disorder (BDD), affects one in every 50 people, totaling about 1.7 to 2.4 percent of the population. And while I'm sure everyone has something about themselves they'd like to change (which is completely normal, BTW), Gutierrez tells Elite Daily that BDD is "classified as an obsessive compulsive disorder" in the official Diagnostic and Statistical Manual of Mental Health Disorders. Combine that with the emotional turmoil that is a woman's period, and you really have a potential recipe for disaster.
Listen, I know myself, and Julia on her period is unlike any other Julia you'll meet. What's interesting about the mood swings I experience during my menstrual cycle, though, is that sure, once in a while, I'll unintentionally take them out on my husband or a friend, but most of the time, that negativity is directed at my own body.
Laurence Orbuch, M.D., FACOG, a New York-based, board-certified obstetrician gynecologist, tells Elite Daily this is likely because BDD is "linked to mood disorders and other psychological conditions." Mix in the unruly hormonal fluctuations during a woman's menstrual cycle, he says, and it can "[worsen] or trigger BDD."
So it's not exactly my actual period causing my body dysmorphia to spiral out of control; it's PMS symptoms like irritability, lethargy, and the physical changes that ensue and escalate things. Either way, like clockwork, the bloating starts, the mood swings take hold, and I'm miserable every time I look in the mirror for the next four to seven days. Of course, even if I were to gain extra weight, I know deep down it wouldn't devalue me as a person, or make me "flawed." At the end of the day, what matters most is being the healthiest, happiest version of yourself, so if you struggle with body dysmorphia on your period as well, here are a few expert tips that have worked well for me, and will hopefully help you, too.