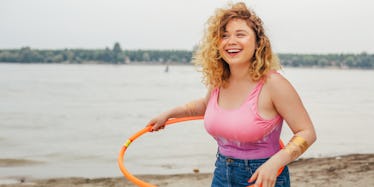 These 5 Workouts Are So Fun, They'll Make You Forget You're Even Exercising
If you're the kind of person who absolutely dreads the thought of being cooped up in a gym, or shudders at the idea of even setting foot on a treadmill, I feel you, fam. Working out can be a bit of a drag sometimes, especially when you're doing the same movements over and over. There are, however, a few workouts that make you forget you're exercising altogether, simply because of how incredibly fun they are. And that's the sh*t I like.
Generally speaking, the best way to move your body is in any way that brings you joy — especially if you want to make it a habit for a healthy mind and body. Seriously, I'm willing to bet you already have enough stress in your life as it is, so forcing yourself to do a monotonous workout that makes you count the minutes until it's over is the last thing you need.
We're all familiar with common workouts like running, ab circuits, or weightlifting, but exercises that are actually a blast to do, like dancing and jump-roping, are often forgotten about, or not given the credit they deserve.
Well, let's give them that overdue credit right here, right now, shall we? The next time your body's craving some movement, but you're really not in the mood to hit the gym, try these five workouts that will make you forget you're even exercising.