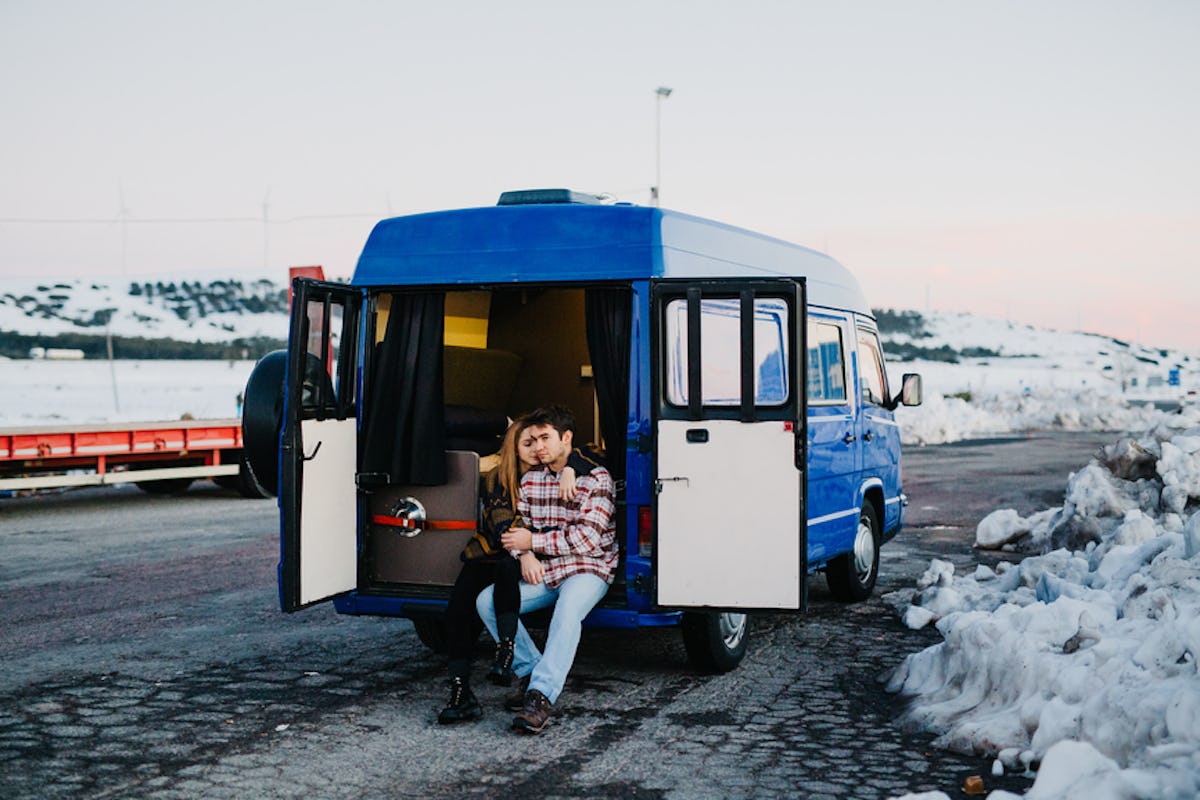 5 Of The Best Winter Road Trips To Take With Your SO Before The Snow Melts
Unless you're stuck with the worst of winter tasks (i.e. shoveling), snow is a gift from the powdery, chill gods who aim to please with office closures, cozy blankets, and that hygge life. It is entirely tempting to give a hard nah to the cold and spend all winter bundled up indoors with your SO, but fight the temptation. (And fight hard, you will.) Throughout the U.S., there are incredible winter road trips to take with your partner that make strapping on the snow boots and transforming your bodies into unrecognizable layer monsters fully worth it.
Speaking from personal experience, the close quarters, compromise, trust, and unpredictable fun that come with hitting the open road can build, or strengthen, a deep romantic connection. According to multiple experts, people who go on road trips are spontaneous, with a more optimistic view on life, which are lovely, amazing traits to discover in anyone, especially your partner.
And while in life, it's usually about the journey rather than the destination, in winter road trips, the destination usually reigns supreme to the actual driving bit. Why, you ask? Because all roads lead to fire places, and fire places are romantic (and warm) AF.
Here are five destinations to rev your engines this season.
1. The Berkshires, MA
Clocking in at a two-and-a-half-hour drive from Boston, the Berkshires, MA, is the perfect, snow-capped, New England fairytale. While the foliage is beyond beautiful in the fall, low winter temperatures give visitors an excuse to head indoors and take advantage of the thriving arts and food culture (after a day of snowshoeing), Aside from the Norman Rockwell Museum, the 10x10 Upstreet Arts Festival in the Berkshires in February caters to everyone's artistic side. Also in February, North County Eats Restaurant Week offers up dining deals at the area's best eateries. (So you can save some money for a sexy wine by the fire.)
2. Taos, NM
I hear you. New Mexico and snow are not normally synonymous, but Taos is an exception. A quick hour-and-a-half from Santa Fe, the town boasts itself on its rich spiritual traditions, fine art, world class cuisine, and thriving music scene. With four ski resorts, there is no shortage of snow activities to partake in, but what sets Taos apart as particularly unique is the opportunity to experience the Native Culture.
3. Hudson River Valley, NY
Snow in New York City is not typically the pinnacle of beauty you might be lead to believe it is from seeing pictures of a fresh, powdery-white Central Park. Most of the city has high foot and yellow cab traffic, which leads to gray, sludgy awfulness. While you'll probably have to rent a car for a road trip if you're living in the pedestrian metropolis, it's a small price to pay to gain your individual and collective sanity. Hudson River Valley is just over two hours from Manhattan, and it leads to a wondrous, cozy love fest of farm markets, wineries, breathtaking views, historic sites, and antiquing in small towns (and snow that doesn't make you cringe).
4. Steamboat Springs, CO
Just under three hours from Denver, the scenic drive to Steamboat Springs will have you and your bae both wishing the winding, snow-capped mountain roads were never-ending. A true ski town, Steamboat has several peaks for skiing and snowboarding, as well as gondola rides that deliver insane 360-degree views. But nature doesn't just offer opportunities for oggling here. The natural hot springs will relax your sore muscles and steam things up between you and your partner.
5. Mammoth Lakes, CA
OK, a five-hour-and-45 minute-car ride from Fresno, CA, is by no means a short drive, but while Mammoth Lakes is the longest trip on the list, it is also the sexiest. The name fully represents the size of the mountains, expansive valleys, and large number of crystal-clear mountain lakes. It is nothing short of gorgeous. So what gives it the sexpot aura? Well, Deep Creek Hot Springs is clothing optional. Feeling warmer already.
The best news of all? You and your partner are just six months away from the sun-soaking glory that is summer road trips. Get planning.
Check out the entire Gen Why series and other videos on Facebook and the Bustle app across Apple TV, Roku, and Amazon Fire TV.
Check out the "Best of Elite Daily" stream in the Bustle App for more stories just like this!