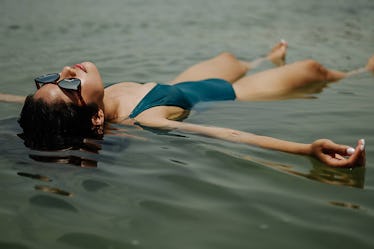 When You're Feeling Tense, These 5 Things Will Relax You, Even Though They're Weird AF
Aug. 15, 2018 is National Relaxation Day, and you better believe this girl right here is going to treat herself to a large cup of tea, preferably the size of her face, while simultaneously cuddling under her favorite, fluffy green blanket with her kitty on the couch. Of course, my idea of a little R&R might be completely different from yours, because there are some weird things out there that relax you, like those viral, goosebump-inducing ASMR videos I'll probably never understand, or the seemingly random act of popping an entire roll of bubble wrap (I mean, if you're going to do it, you can't just pop one). I'm not saying I don't have any of my own weird habits — playing with my own hair relaxes the hell out of me — but what I am saying is that, if you're looking for unique ways to wind down in honor of National Relaxation Day, and every day thereafter, there are plenty to choose from.
Thanks to trendy Instagram and Pinterest posts, I'm sure you've painted this kind of extravagant vision in your head of what the best ways to relax are — applying under-eye gel masks, soaking in psychedelically-colored bubble baths, inhaling lavender essential oil from your temples — but what's relaxing to you might not be super relaxing to someone else. For instance, full-body seaweed wraps at the spa aren't really my thing, but I know plenty of women who love being swaddled up this way.
Relaxing is both objective and subjective. By definition, Melissa Johnson, lead massage therapist and total-body stretch provider for Massage Envy, says relaxation is both a physical and mental state in which your body is completely free from tension and anxiety. "Relaxation starts in the brain when it releases chemicals and hormones, like serotonin and dopamine, that lead to a feeling of calm," Johnson tells Elite Daily over email, which means any activity that helps you relax is actually causing a very real, very physical change in your body.
The kinds of activities that help you relax, though? Those are subjective. Maybe social media's picturesque ideal of what's relaxing isn't for you. If not, here are a few weird ways to relax to try for yourself.