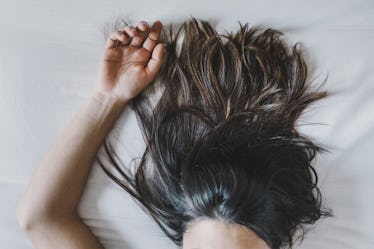 How To Instantly Relax Your Mind Before Bed With These Science-Backed Hacks
Trying to fall asleep at night is often a fickle, frustrating experience. There are nights when you're out as soon as your head hits the pillow, and then there are nights when you're up for hours, tossing and turning, staring into the darkness, trying to figure out new ways to relax your mind and shut down for the night. When your mind is racing well into the evening, sleep might seem totally impossible. But don't lose hope just yet.
It's totally normal to have trouble falling asleep, especially in our social media-obsessed age. Multiple studies are beginning to reveal the negative effects social media can have on our sleep cycles, which is, to say the least, less than ideal, since only 29 percent of millennials report sleeping as much as they should at night, according to a 2015 report from Newsweek.
But, if you've totally unplugged from your devices, and you're still having trouble calming your mind to get those ever elusive seven to eight hours of sleep a night, fear not. There are tons of new strategies you can try to relax your mind and fall asleep, most of which are available free of cost, and can be easily accessed right in the comfort of your cozy bedroom.
Whatever tactics you choose, try to stick to it for several weeks at a time. Studies show that creating bedtime routines can train your body to prepare for sleep before you've even completed the trick. Here are six quick tricks for relaxing your mind so you can fall asleep faster and more easily.