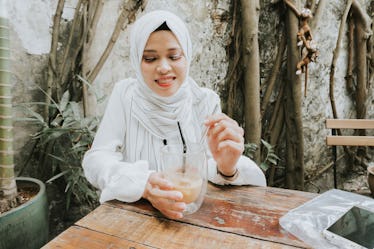 You Probably Had No Idea These 5 Weird Things Can Make Your Food Taste Better
I'd say I've watched enough cooking shows on Food Network and Netflix to consider myself a novice foodie, and one of the lessons I've learned from hours of Chopped and Chef's Table is that presentation is super important in the food world. TBH, I always thought this was just a fancy, yet arbitrary requirement of reality food competitions and five-star restaurants, but according to new research, there's a real science behind the idea that you eat with your eyes first. In fact, there are a number of weird things that affect your taste buds, and it's not just limited to the way your food is arranged on your plate.
The new study, which has been published in the Journal of Food Science, revealed that your environment can affect how you taste certain foods. Here's how the experiment was done: According to ScienceDaily, food scientists from Cornell University gave 50 participants virtual reality (VR) headsets to wear, and three identical servings of blue cheese to taste. The participants had the chance to eat the blue cheese samples (though they didn't know the samples were all exactly the same) in three different VR settings: "a standard sensory booth, a pleasant park bench and the Cornell cow barn," as per ScienceDaily.
Although each blue cheese sample was identical to the others, the study found that the participants' experiences of the food changed based on their environment. In the cow barn VR experience, for instance, participants rated the blue cheese sample as significantly "more pungent" compared to the cheese they tasted in the other two VR settings. "We consume foods in surroundings that can spill over into our perceptions of the food," Robin Dando, associate professor of food science and senior author of the study, said in a statement, as per ScienceDaily. Isn't that so wild to think about?
Here are some other factors that might play a role in how much you enjoy your food — see for yourself if switching things up can make your meals taste even more delicious.