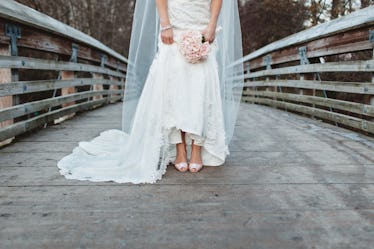 5 Wedding Photographers Reveal Signs They Knew Couples Wouldn't Last
I've only been to one wedding during which I actually had the thought, "Are these people meant to be together?" I quietly shut that thought down, because every couple shows their love differently, I have no personal experience with marriage, and the notion of cringing at such an expensive event was troubling. However, because weddings are such expensive, well-planned events, it can be difficult to cancel one. Even if everyone is having the same thought: "Why are these people getting married?" Which is why when I found a Reddit thread of wedding photographers' signs that a couple wouldn't last, I was thrilled.
OK, so being thrilled at the thought of a thread discussing failed marriages makes me sound like a monster, which I promise I'm not! But I was truly curious to hear exactly what these photographers encountered that made them think, "This is a terrible idea." Taking photos of a couple on their wedding day is an incredibly intimate experience. Wedding photographers spend an enormous amount of time with the couple, direct them on how to pose, and get a good idea of what the couple is looking for when it comes to their photos — and how they communicate with each other about it. Here are some of the warning signs wedding photographers of Reddit witnessed while taking photos of soon-to-be-married couples.