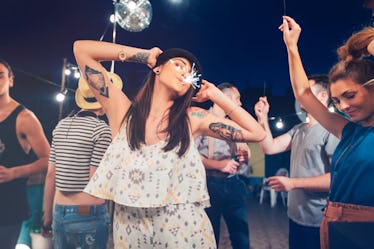 Here's How To Get A Cutie At A Party To Notice You, So Get Flirting
After spotting a potential bae at a party or social event, knowing how to get their attention can be totally stressful. After all, the idea of approaching them comes with the risk of public rejection, while missing an opportunity by not taking action can lead to a ton of regret. Fortunately, there are several ways to get someone at a party to notice you. Whether your ultimate goal is to get them to approach you, or to test the waters and see if there's enough mutual interest for you to feel confident in approaching them, you have some options.
The great thing about seeing a person of interest at a party is, unlike more public situations where your time to formulate a plan and execute it is extremely limited, a social event doesn't usually produce the same anxious urgency to act fast. At parties, the atmosphere lends itself to meeting new people, and attempts at making connections can be done a bit more organically. Plus, if they don't get your initial "look at me," hints, you might get the opportunity to try another tactic. So, the next time you find yourself at a party with someone who has major bae potential, here are some ways you can get their attention.