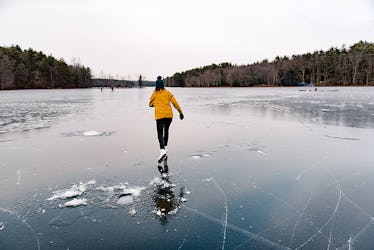 An Expert Reveals The 5 Simplest Ways To Beat The Winter Blues If You Hate Cold Weather
Winter is coming. Perhaps you hear eerie horror music playing in your head when you read that statement, because the promise of shorter days and colder temperatures can just do that to a person. While there are many cozy parts of winter to look forward to — like tiny marshmallows in hot cocoa, sweater sales, and using the cold as an excuse to curl up with a book all weekend — it's no secret that many of us get emotionally low in the winter. So having tools and simple ways to beat the winter blues is a stellar practice as the snowflakes begin to fall.
But before I get into some of those strategies, it's important to point out the difference between regular winter blues, and a condition called seasonal affective disorder (SAD). An overview of the condition, published in the journal Depression Research and Treatment, defines SAD as "a recurrent major depressive disorder with a seasonal pattern" that usually begins in the fall, and lasts well into the winter months. In other words, SAD is a diagnosable mental health condition, and while most people can relate to the general feeling of "winter blues" — the low energy from lack of sunlight, the discomfort you feel walking through the bitter cold, etc. — it's a totally different situation when that sadness affects a person's ability to function day to day, and warrants a legitimate diagnosis from a mental health professional.
According to the National Institute of Mental Health (NIMH), SAD is more common in women, and it tends to happen more frequently to people who live in areas where winter is especially rough or long (i.e. think people who live far away from the equator). To that point, the NIMH states that about 9 percent of people who live in places like New England or Alaska suffer from SAD.
If you're not sure whether your wintertime sadness is a case of SAD or the winter blues, it never hurts to consult your doctor or make an appointment with a trained mental health professional. But if you know you're dealing with run-of-the-mill winter blues, here are a few expert tips to help balance out your mood during the changing seasons.