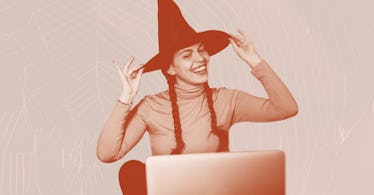 The Best Virtual Halloween Experiences You Can Have With Your Witches & WiFi
Shanelle Infante, Elite Daily
On the spookiest night of the year, you want to sit back with your laptop and get scared. Of course, you could do so by watching a thrilling movie like It or A Quiet Place. But why not tour a haunted house in the U.S. and participate in a Halloween-themed escape room, all while chilling on the couch? There are a ton of virtual Halloween 2020 experiences that'll make you jump out of your seat alongside your witches and WiFi.
It's not necessarily a requirement to wear a costume for any of them or have a bowl of your favorite candy by your side... but that would certainly make the experience a little sweeter. It would put you in the true spirit of the holiday while you hunt for ghosts or crack a mysterious puzzle. You may even find that your costume is a talking point while you're hanging out with your friends virtually, or meeting up with other people around the world who adore Halloween.
The truth is, there are plenty of us who look forward to this night every year, and the chance to get dressed up like a goblin, gamer, or Jess Day from New Girl. During a year when many events are going virtual due to the global pandemic, these virtual Halloween experiences are making sure the holiday doesn't go uncelebrated. Enjoy them with your witches and your WiFi.