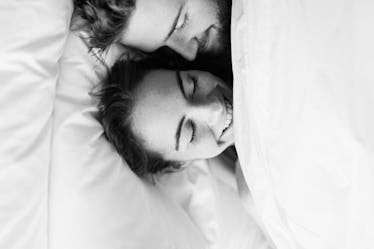 5 Perfect Gifts For Someone Who Absolutely Hates Valentine's Day
Bring on the chocolates, couples massages, rose bouquets, and kind of naughty — but mostly witty — cards: Valentine's Day is upon us once more. (Do we really have to do this every year?) Thinking about what to get your loved ones can be a challenge. For one, you're probably still reeling from Christmas shopping, in both budget and gift ideas. Add in having to buy gifts for people who are anti-cupid, and your stress level grows even more. Thankfully, there are some thoughtful ideas for Valentine's Day gifts for someone who hates it out there.
If you really want to shower this person with love, figuring out the perfect gift for any hater starts with a simple question: Why do they hate Valentine's Day? Now, you have something personal to work with. There are so many reasons to dislike the festival of love: outrageous consumerism, corny quotes, high pressure, a reminder that you're forever alone...
Get to the root of why this person hates Valentine's Day and you'll be able to pick out a gift that they can actually use, with some real sentiment to back it up.
1. If They Think It's Cheesy AF: Something Artsy
Why does everything go rose-colored as soon as Feb. 1 rolls around? Just because most marketing around Valentine's Day is full-blown cheese, doesn't mean that you can't give someone a gift that breaks that mold. For the person who can't stand how corny Feb. 14 can be, opt for an artsy gift. Society6 has art prints for every taste. Instead of buying some overly commercialized declaration of love, go for style to show them how much you appreciate who they are.
2. If It's A Painful Reminder Of Being Unlucky In Love: Something Personalized
Say your BFF is feeling super down this Valentine's Day because they don't have a romantic partner to celebrate. It is super hard to spend the day being inundated with mushy posts from coupled-up connections when you are alone. That's why this person needs a reminder of just how loved they are. Turn to Etsy to grab a personalized gift (i.e. friendship necklaces, keychains, a portrait sketch, etc.) that represents your relationship — so what if it isn't a romantic one?
3. They Think Planning The Perfect Date Is Too Much Pressure: An Authentic Food Experience
We're not all natural-born planners; For a lot of people, laying out the perfect date night under all the pressure (and reservation limitations) of Valentine's Day is too much to handle. Luckily, EatWith, which boasts authentic food experiences in 130+ countries, is an amazing, intimate replacement for the grandiose Feb. 14 dates of yesteryear. Since the chef-hosted dinners are more than just a meal, but an experience, your plans for the night will be set.
4. If They Think Monetizing Love Is Completely Unromantic: Matching Temporary Tattoos
So the object of your affection feels like spending copious amounts of money on some lame gift or lavish dinner is an unnecessary expense that cheapens the real meaning of your bond. They might have a point. You could opt to cook them a home-cooked meal, or if you're creative, write them a poem or song, or create any number of DIY gifts. But nothing screams lasting commitment like matching tattoos — OK, semi-permanent tattoos (the real deal is expensive and... forever). Starting at $20, buy some freehand ink from Inkbox for custom designs that will last eight to 18 days.
5. If They Have A Chocolate Allergy: Monthly Alcohol Membership
If they can't eat hearts filled with chocolate, then the day understandably amounts to sheer torture. This poor soul needs all the sweetness you can send their way this Valentine's Day. While cocoa literally tastes like love, there are still ways this person can experience joy (or a close enough substitute). Alcohol is a great start. To show them you really empathize with their chocolate-less life, opt for a membership to a beer or wine of the month club. That way, they get a reminder of how much you love them every month. (And there's usually enough to share, so you win, too.)
There are people out there who are dreading Valentine's Day for a number of reasons. But if you put your heart into it, making them feel loved despite that should be an easy task.
Check out the entire Gen Why series and other videos on Facebook and the Bustle app across Apple TV, Roku, and Amazon Fire TV.
Check out the "Best of Elite Daily" stream in the Bustle App for more stories just like this!